Massive dog with a massive heart.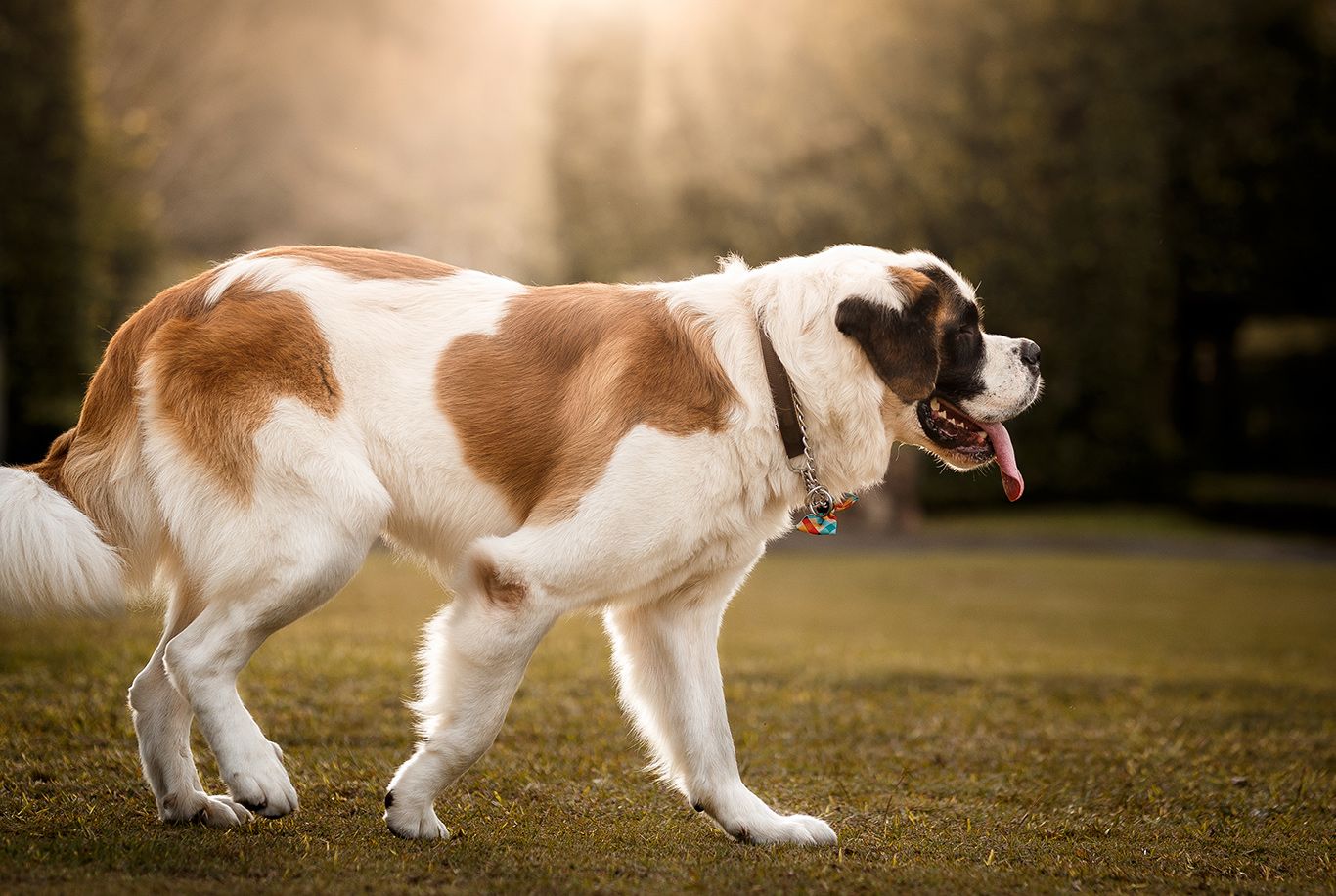 St. Bernard is a large dog breed from the Molossian mountain dog breeds group. Originally bred as a rescue dog, currently, adult dogs of this breed are too heavy to work in this field. St. Bernard dogs are considered one of the heaviest dog breeds.
| | |
| --- | --- |
| Country of origin: | Switzerland |
| FCI group: | Group II, Section 2.2; |
| Temperament: | Friendly, Lively, Gentle, Calm, Careful |
| Colors: | Red and White, Rusty, Brown |
| Weight: | From 60 to over 100 kg |
| Height: | Male: 70–90 cm, Female: 65–80 cm |
| Life expectancy: | from 8 to 10 years |
St. Bernard puppies
St. Bernard is a breed of intelligent dogs, so training should not pose any challenges. Due to the size of adult dogs of this breed, early socialisation is a must, so your dog can learn how to behave around people and other, especially smaller animals. St. Bernard puppies can show some independence, but they are usually happy to work with their owners. A key to success in training with St. Bernard puppies is forming a close bond with your canine. Once St. Bernard puppy can fully trust the owner, he will gladly cooperate with the owner. During the training of St. Bernard puppies be consistent but gentle. From the very beginning leash train your dog to prevent any possible pulling - it may not be too big of an issue with a small puppy, but bear in mind how big an adult St. Bernard dog is. St. Bernard is considered to be a giant dog breed, so a diet that will support your dog's healthy development and provide additional joint support is a must. Valp Maxi is great dry puppy food, as it is a complete diet with all the necessary nutrients.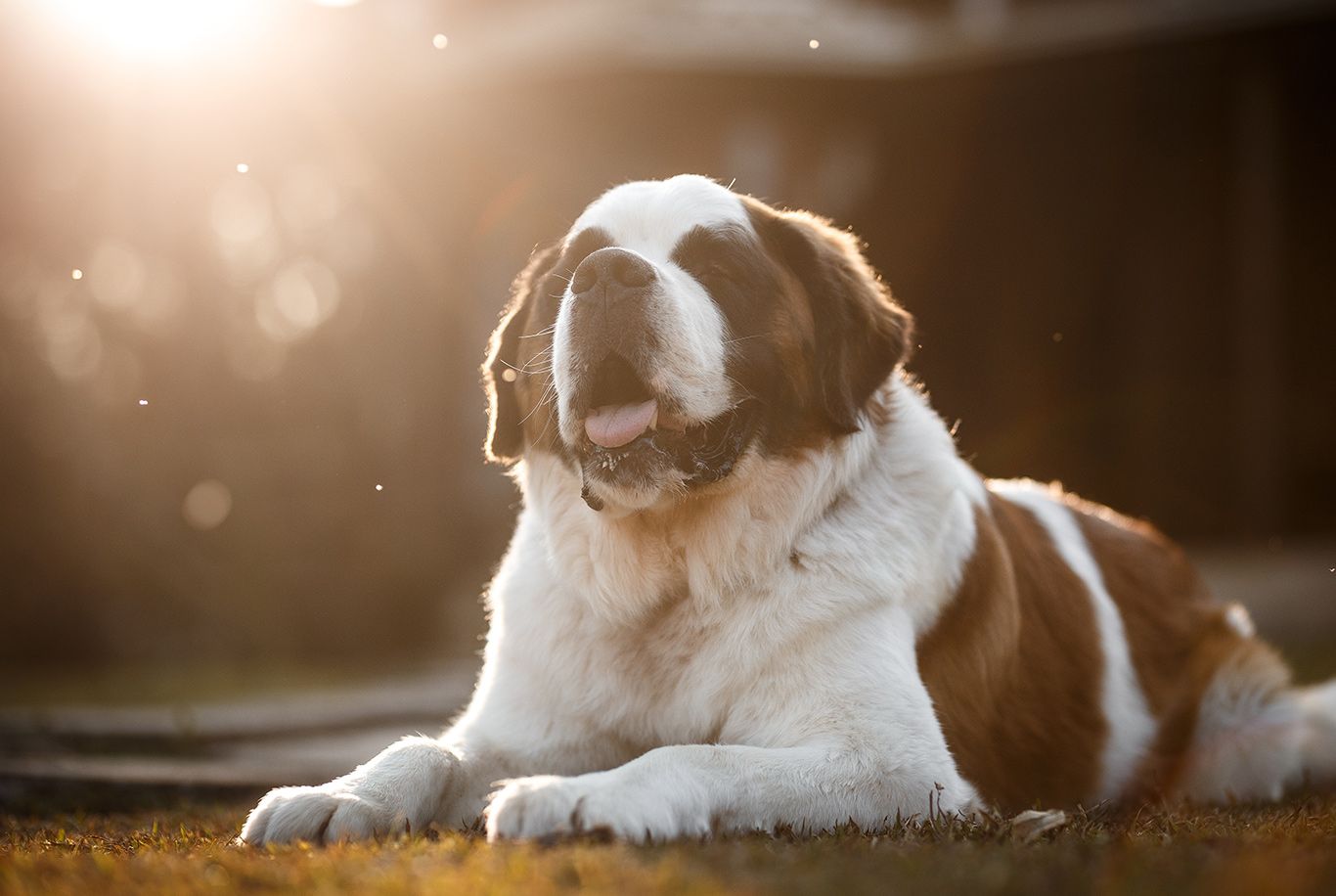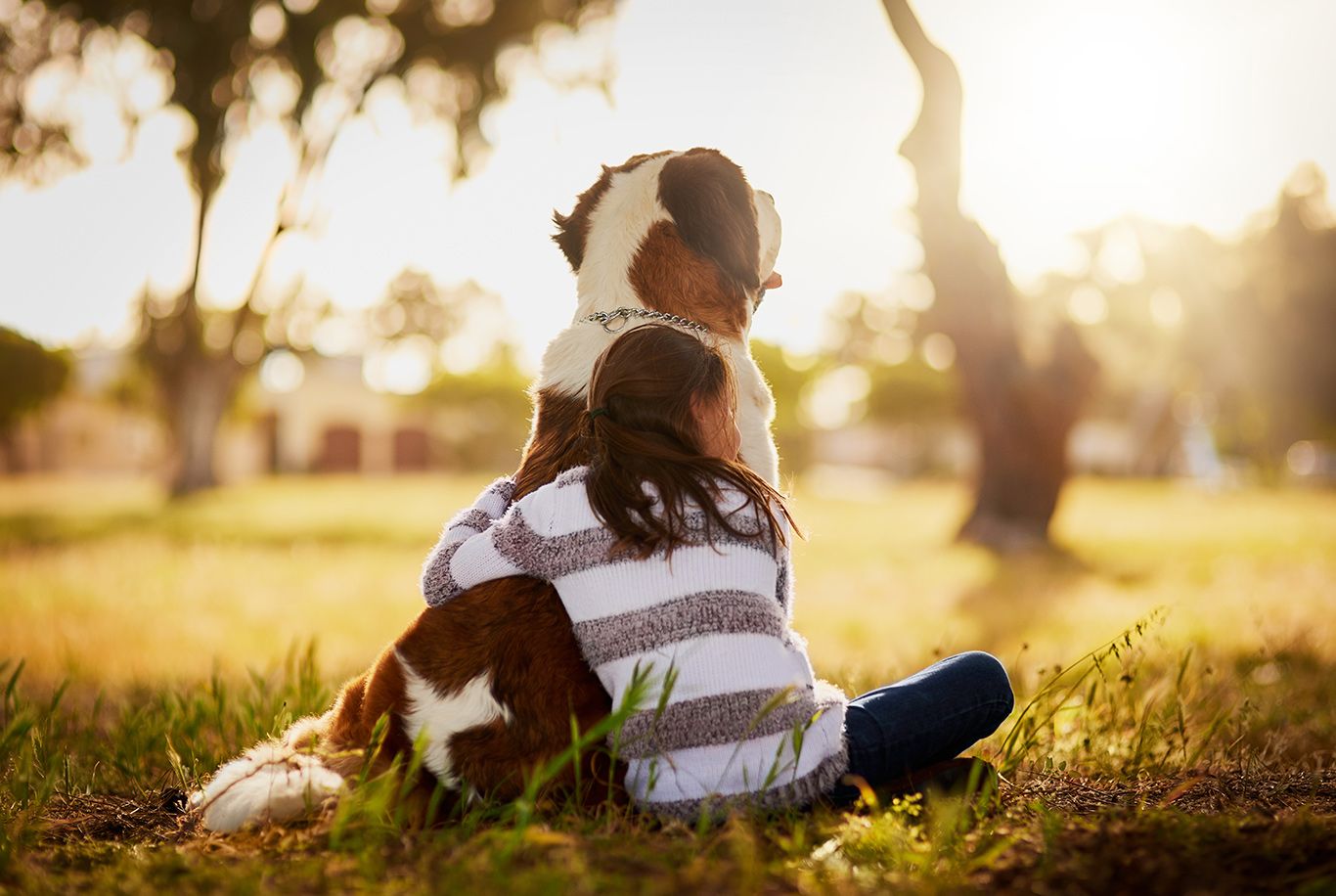 St. Bernard nutrition
Adult St. Bernard dog can weigh over 100 kg and maintaining an optimal weight is a key factor in your dog's well-being and health. Feed your dog recommended portions and set a feeding schedule. St. Bernard is a breed prone to gastric volvulus, so dogs of this breed should always eat their meals in peace. Remember to give your dog some time to rest after a meal, before you play or exercise with your canine friend. If your dog is frequently experiencing gastric volvulus, you can switch a regular bowl for a slow feeding bowl. As a giant dog breed, St. Bernard requires a diet that will support the joints. A formula enriched with glucosamine and chondroitin in your dog's diet can aid with the proper functioning of the joints.
Recommended for St. Bernard adults:
Digest Giant is a gluten free product with limited sources of animal protein, suitable for dogs that suffer from allergies and/or sensitive digestive systems. Contains glucosamine to support joint health and has an adapted kibble size for the jaws of large and giant breeds.
Protein:
24.0% (73.5% animal protein of total protein content)
Check it out
Optimal Giant is suitable for adult large or giant breeds with normal energy requirements. Contains glucosamine to support healthy joints and bones. Kibble size is adapted for the jaws of large and giant breeds to support mechanical cleaning of the teeth.
Protein:
23.5% (71% animal protein of total protein content)
Check it out
Detailed description of St. Bernard
It's often said that St. Bernard dogs have hearts as massive as themselves. Dogs of this breed, despite their size, can be really gentle and calm. St. Bernards make for great family and companion dogs.
Genesis
The origin of this breed is tied to the famous hospice of the Great St Bernard Pass on the Italian-Swiss border. Monks that lived in the hospice bred a rescue dog resembling St. Bernard dogs from the 17th century. As rescue dogs, St. Bernards saved hundreds if not thousands of lives. One of the most famous cases was a rescue by a dog named Barry. This dog lived from 1800 to 1812 and is known for rescuing a group of 40 people from the avalanche. Although the story made St. Bernard dogs famous all across the globe, the story just as the breed genesis, remains unconfirmed. Throughout the years the breed type has evolved and the famous rescue dogs became too heavy and massive to save people buried under the snow.
Appearance
You can tell you are dealing with a St. Bernard dog not just by the size of the animal, but by the colour of the coat. St. Bernard's coat is usually tricolour, heavy on browns and coppers with white belly, chest, paws and parts of the muzzle. St. Bernard has a massive head, wide muzzle with pronounced flews and triangular ears hanging at the sides of the head. St. Bernard has a deep chest, strong legs with big paws and a long, hairy tail.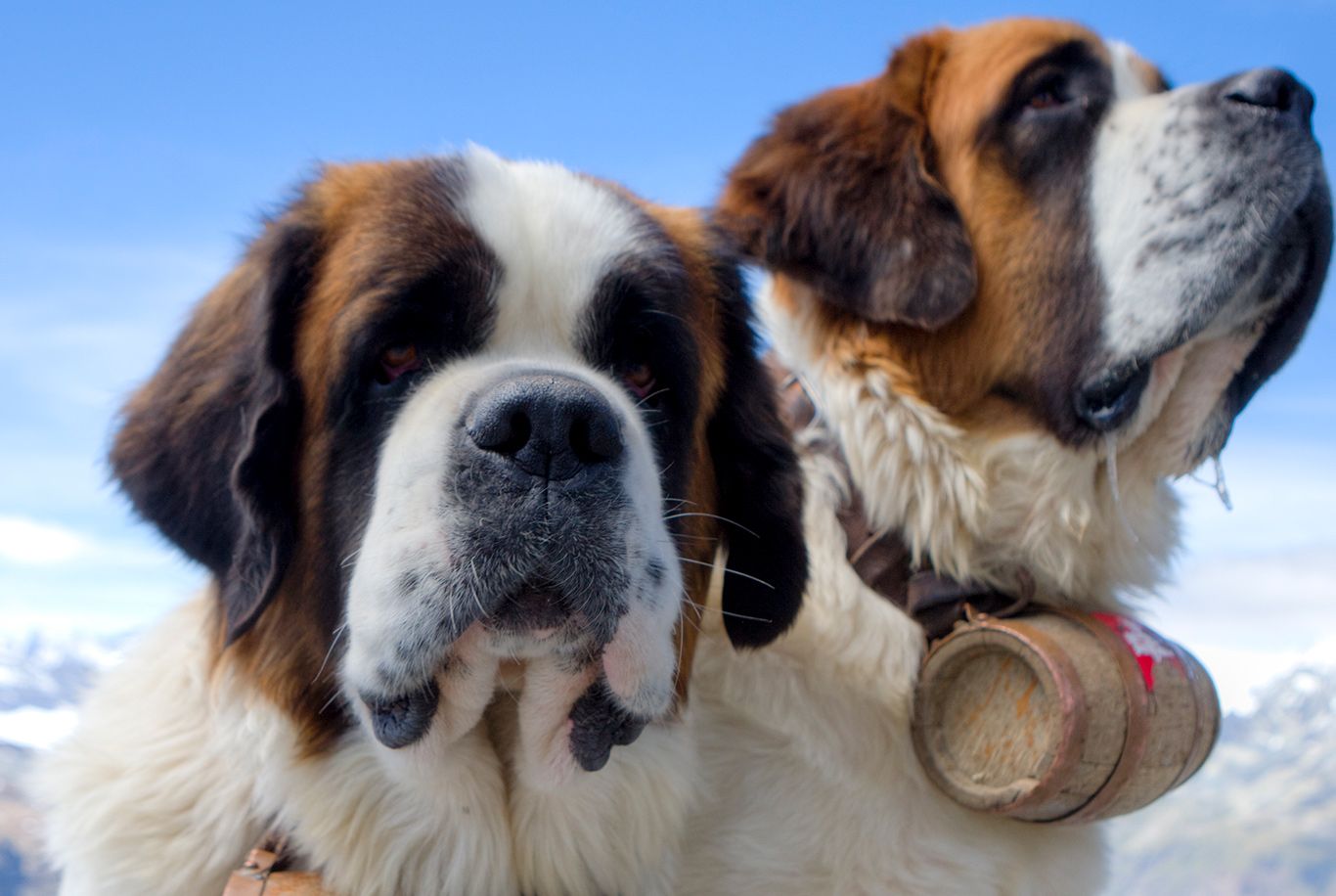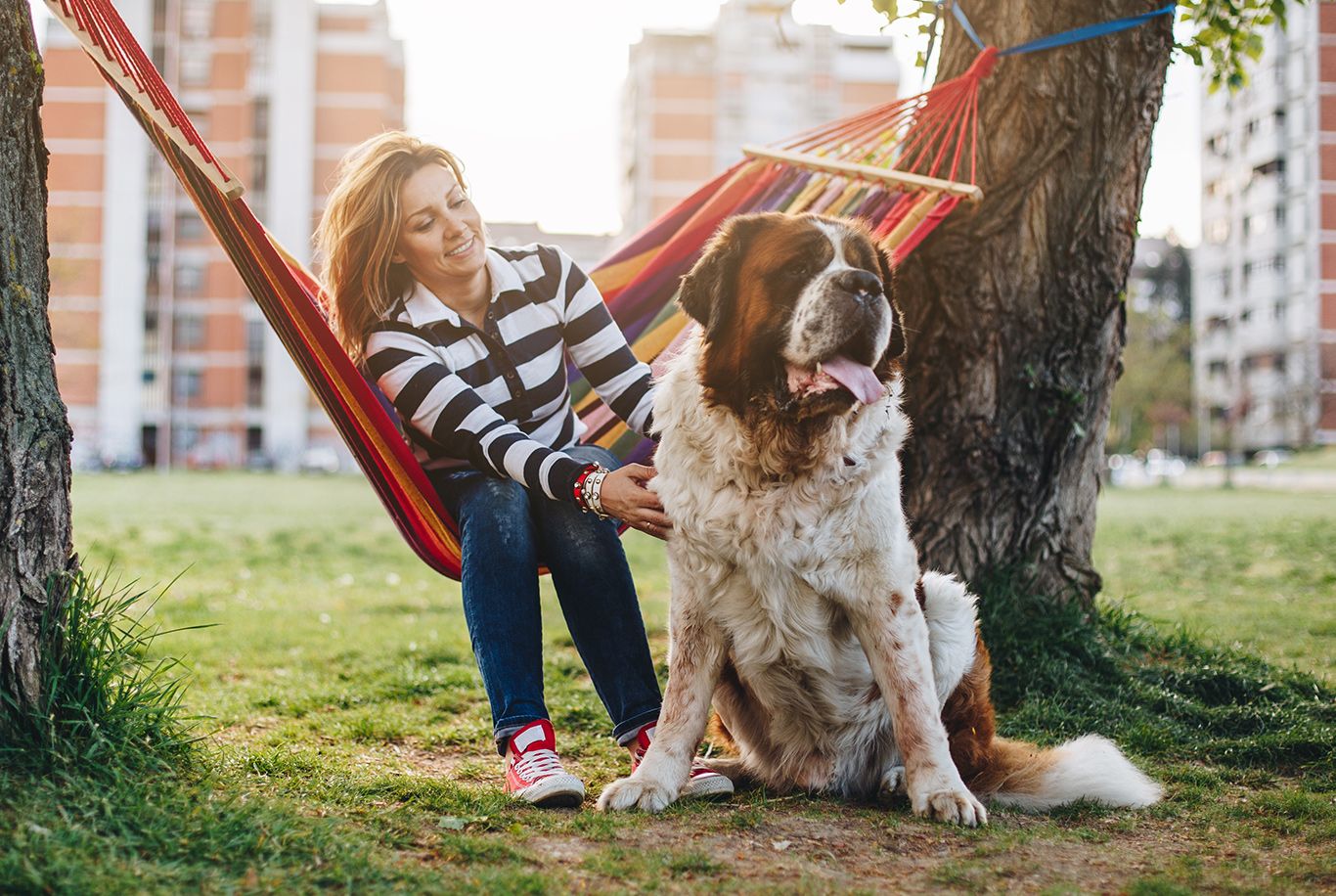 Behaviour
St. Bernards are famous for their gentle nature. Despite their size, they make for an excellent family companion since they know how to be gentle around kids. But always remain cautious whenever your St. Bernard plays with your youngest family members. St. Bernards are very calm and collected dogs that are not easily annoyed. Dogs of this breed are believed to be very sensitive and sociable - they don't like to stay away from their owners and although they work great as guard dogs, they should never live in a kennel away from their family.
Requirements
As a giant dog breed representative, St. Bernard needs a lot of available living space. Dogs of this size are not suitable as a companion in small flats. To ensure your dog gets enough physical activity throughout the day take him for long walks.
Daily care
Brush your St. Bernard regularly and check the hygiene of his eyes, to stop any possible changes and pathologies. St. Bernards produce a lot of salivae, so be prepared for constant cleaning and stains on your furniture, carpet and floors. After long walks remember to care for your dog's paws - you can apply a moisturizing balm to your dog's toe pads.
dr Anna Plummervet and blogger
Perfect products for a St. Bernard