The most placid of the Molossian type dogs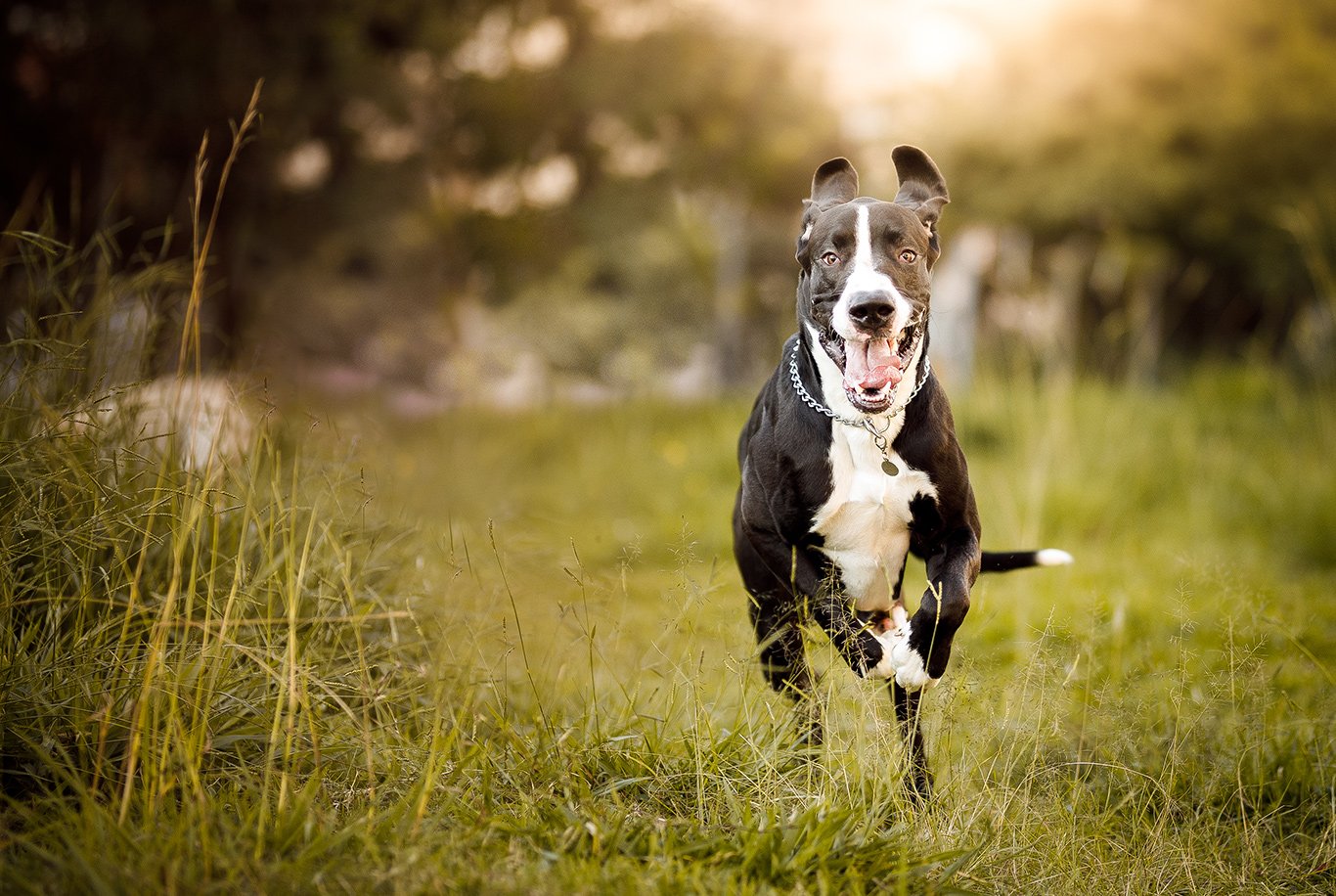 Great dane is the most friendly among the Molossian type dogs. This breed does not respond well to isolation and these dogs do require a lot of attention. They should never be kept in an outside kennel, where they cannot see their owners during the day.

| | |
| --- | --- |
| Country of origin: | Germany |
| FCI group: | Group II, section 2.1, mollosian |
| Temperament: | Loyal, confident, friendly, loving, gentle |
| Colors: | |
| Weight: | Male: 54–90 kg, Female: 45–59 kg, |
| Height: | Male: 76–86 cm, Female: 71–81 cm |
| Life expectancy: | from 8 to 10 years |
Great dane puppies
Great danes are very clever and you can teach these puppies virtually anything. In training with a great dane the bond with their owners play a crucial role - if the puppy feels attached to their caretaker they will be more motivated to cooperate. Don't forget about proper motivation - regular praise and tasty rewards can encourage even the most reserved puppies. Be consistent and patient and always reward any progress. Great dane puppies do require early socialisation which will teach them how to behave around other animals. During their first year puppies go through a phase of rapid physical changes, and a healthy diet plays an important part in that process. Valp Maxi is a complete formula for puppies of large and giant breeds - diet enriched with glucosamine and chondroitin will provide joint support, which will be perfect for your great dane pup.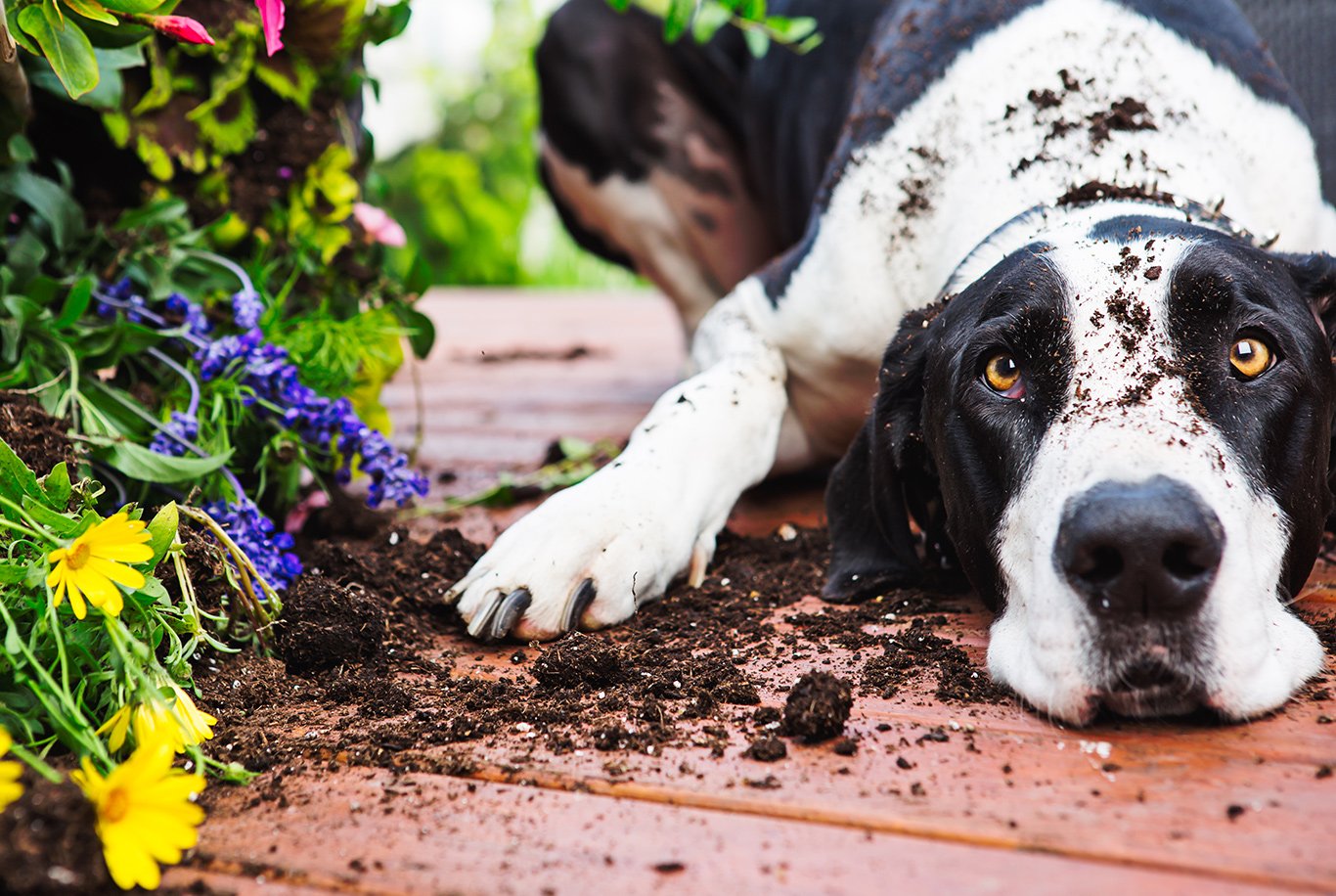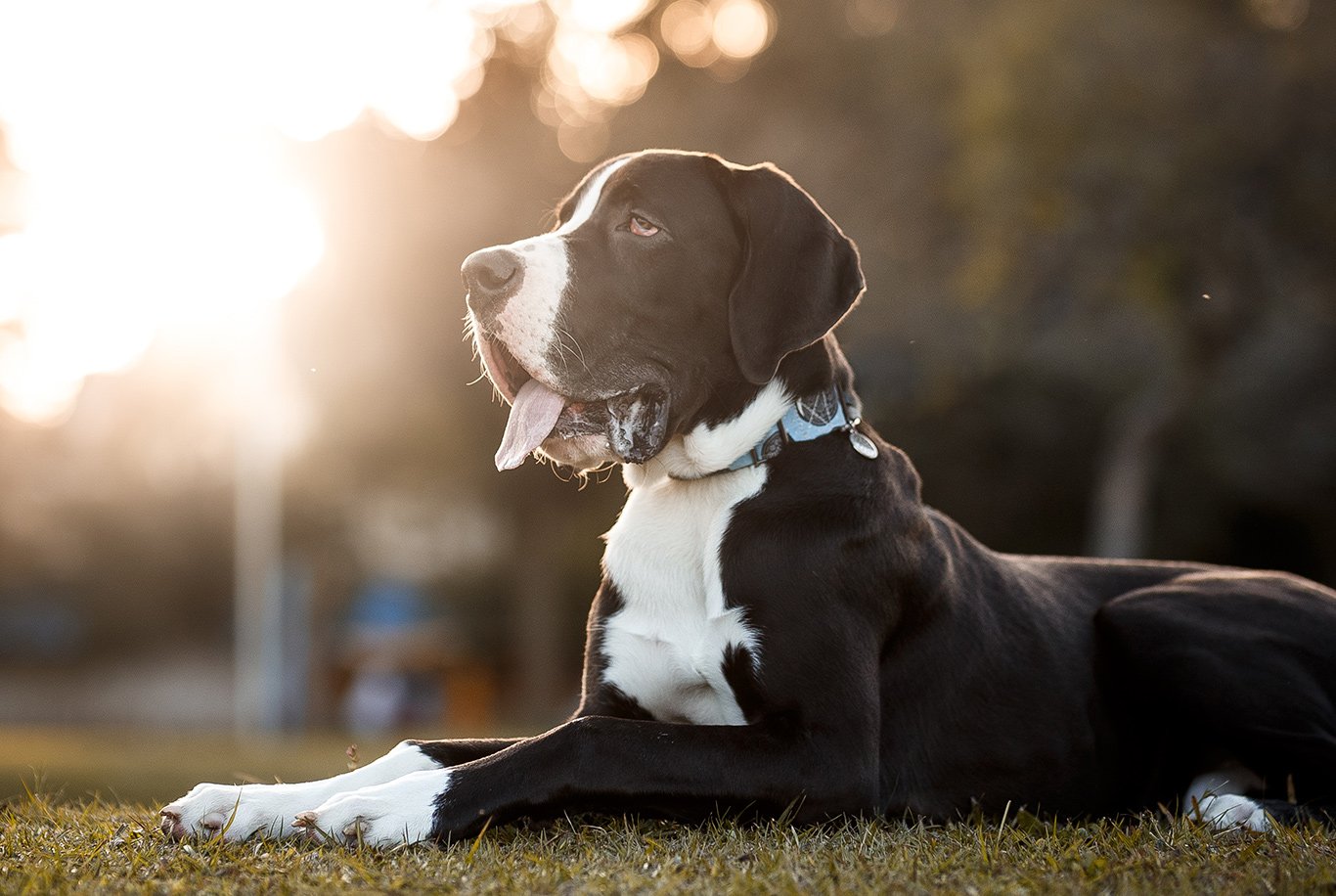 Great dane nutrition
Great danes are a breed somewhat prone to gastric dilatation-volvulus, so they should always eat their meals in peace, and should never exercise straight after a meal. Large and giant dog breeds are prone to a plethora of joint conditions, so a diet with added glucosamine and chondroitine can provide your dog's joint with much-needed support. For your great dane choose a diet designed for large and giant dog breeds - such diet will provide your canine with enough energy and all the necessary nutrients. Great dane is not a longevous dog breed and they tend to start ageing quicker than other breeds of dogs. It is estimated great danes become geriatric around the age of 7. At that point it is advised to change your dog's diet to a formula aimed at older dogs - reduced amount of fats will make weigh management that much easier. Remember that every dog is different and actual energetic needs of your canine depend on the energy levels, their lifestyle and living conditions.
Recommended for Great Dane adults:
Digest Giant is a gluten free product with limited sources of animal protein, suitable for dogs that suffer from allergies and/or sensitive digestive systems. Contains glucosamine to support joint health and has an adapted kibble size for the jaws of large and giant breeds.
Protein:
24.0% (73.5% animal protein of total protein content)
Check it out
Optimal Giant is suitable for adult large or giant breeds with normal energy requirements. Contains glucosamine to support healthy joints and bones. Kibble size is adapted for the jaws of large and giant breeds to support mechanical cleaning of the teeth.
Protein:
23.5% (71% animal protein of total protein content)
Check it out
Detailed description of Great Dane
Although great dane is an amazing guard dog, you should never keep this breed away from their caretakers. Great danes are very sociable and will gladly spend the entire day with their owners.

Origin

W XVI wieku możni z wielu krajów europejskich importowali długonogie psy z Anglii, które były krzyżówką mastifa angielskiego z wilczarzem irlandzkim. Wtedy jeszcze psy nie miały statusu rasy, ani nawet konkretnej nazwy, a jedynie określenie "pies angielski". Tym sposobem angielskie określenie "dog" stało się popularne również na terenie Niemiec i Francji, gdzie od początku XVII wieku hodowano długonogie psy molosowate niezależnie od tych, hodowanych na Wyspach. W XIX wieku protoplasta doga niemieckiego miał kilka różnych nazw, jednak w każdej z nich niemieccy hodowcy chcieli podkreślić swoją rolę, jaką odegrali w rozwoju rasy. Oficjalną nazwę rasa zyskała w roku 1888.
Appearance
The telltale sign of a great dane is most certainly its size. Adult dogs can grow as tall as 90 cm in the withers and weigh up to 90 kg. These massive dogs have long legs and lean, but sturdy bodies. Their head is elongated and rather slim, the muzzle is rectangular with visible flews and wide jaws. Great dane ears are set high on the head and hand loose at the sides. Dogs of this breed has very short coat that lays completely flat, creating a silky and shiny surface. Great danes usually come in black, yellow, blue and harlequin coat. The last one can have skin-coloured nose. With every other coat colour great dane's nose is black.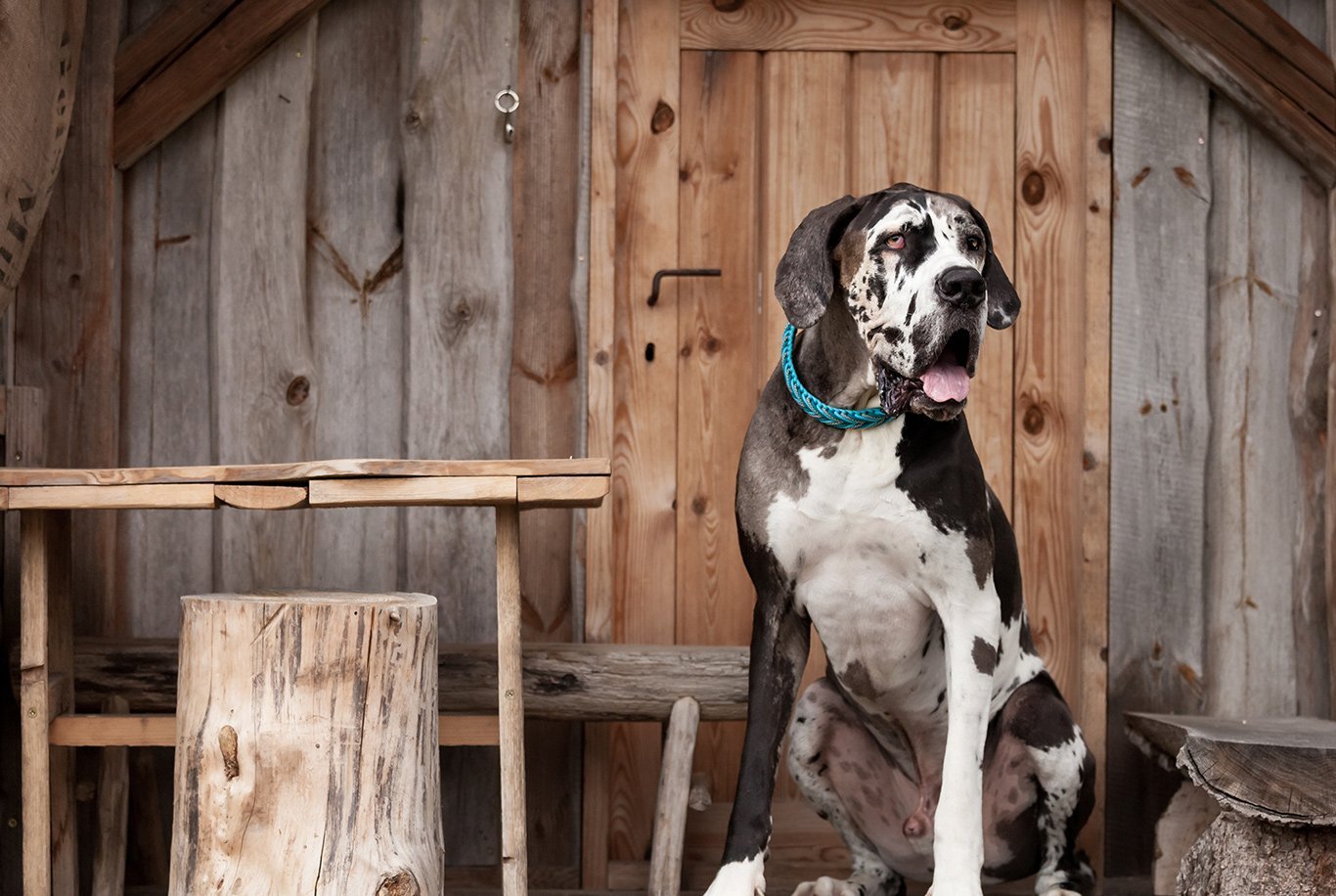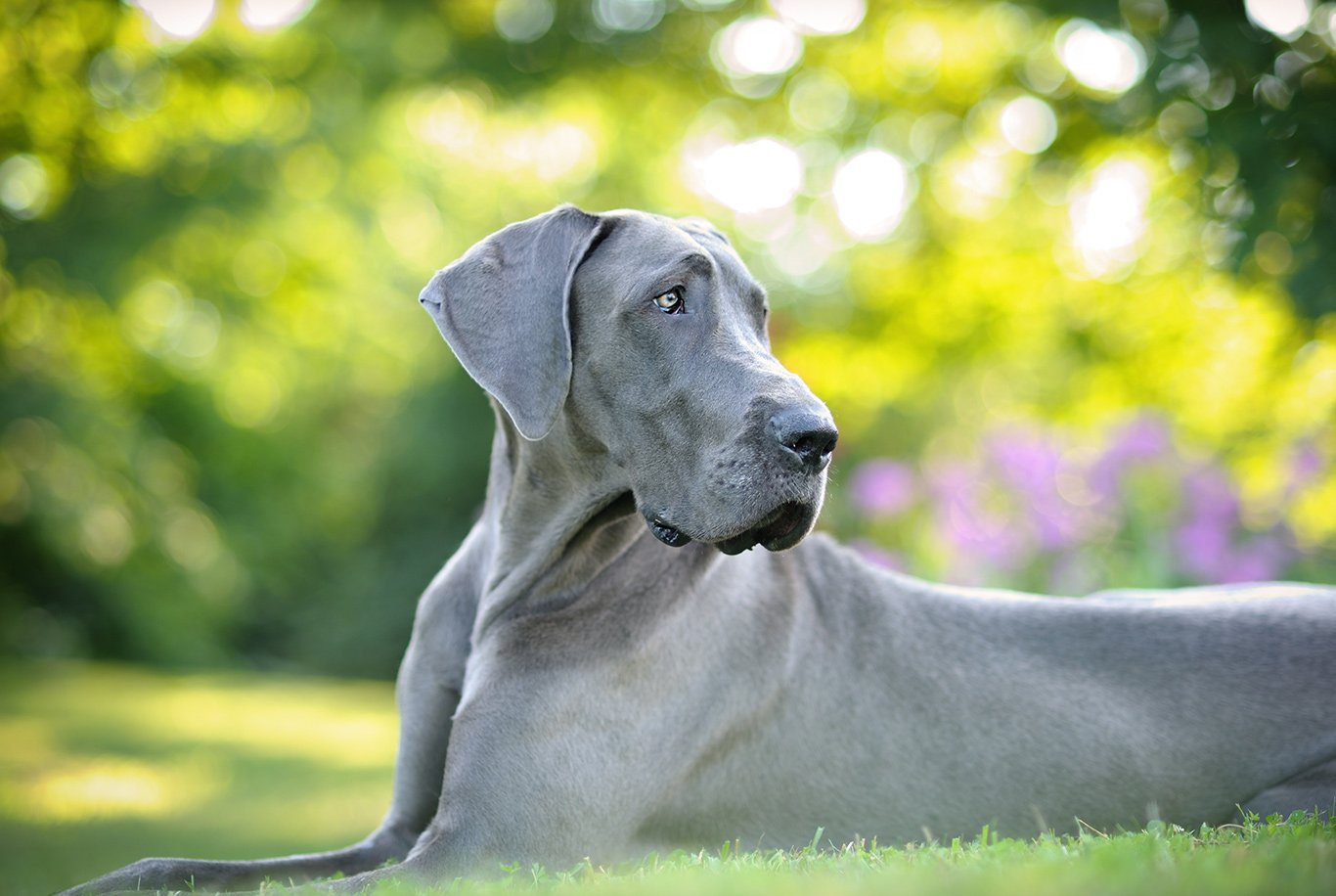 Behaviour
Great danes are friendly and get strongly attached to their owners. They don't enjoy being left alone. Although massive in size, great danes are very gentle and calm. They know how to behave around smaller animals and children, but you should always keep an eye on them - they can cause harm simply by wagging their strong tails. Great danes are not to quick to loose their temper, but you should never test your dog's boundaries. Great danes can be reserved towards strangers, so they make for a great watchdog.

Requirements
Great danes reach their full maturity around 3 years of age. Until that point, despite being huge, they act as an energetic puppy and can sometimes forget how strong they really are. They can harm themselves during energetic play, so pay extra attention. This breed can frequently experience problems with eyes and ears - keep them in pristine condition to prevent any infections.

Daily care
Great dane's coat is easy to care for. If it gets dirty, you can just wipe your dog with a towel or rubber glove. Short coat can be brushed once a week. You can brush your dog more frequently during shedding season. Great danes do enjoy long walks - remember to moisturise their toe pads. Keep your dog's eyes and ears clean - this will help prevent inflammation.

dr Anna Plummervet and blogger
Perfect products for Great Danes