How to make a cake for your dog?
Dogs
Do you remember your birthday, when you were still a child, you waited for this magical moment when an appetizing cake decorated with candles appeared on the table? On that one day of the year, you waited only for two things - gifts and a sweet cake covered with a thick layer of cream. But is it possible to provide the same experience to your pet on their birthday? Can you find a dog cake that won't make your pet's stomach upset?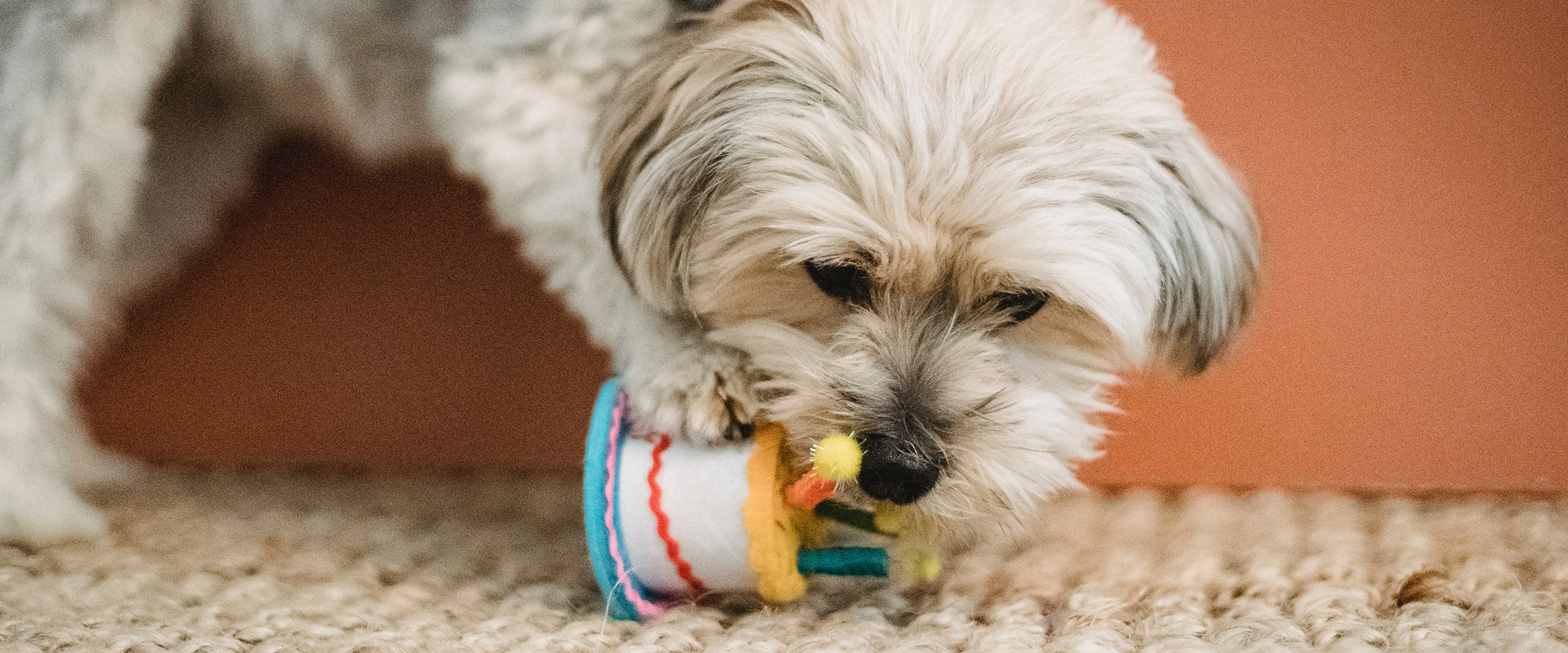 What should a dog cake be like?
Before you even go looking for birthday gifts and attractions for your pet, make a list of food products that your dog can eat safely and without unpleasant consequences at their birthday party. Do you want to eat a dog cake? Leave this sweet one for yourself and other human guests. Prepare a separate cake for your pet.
Avoid these ingredients in the dog cake!
Forget about your confectionery skills and leave delicacies such as coconut flakes, sweet frosting, sponge cake, creams or caramel for yourself. A dog cake should never be sweet. Absolutely do not add chocolate or any fruit harmful to the dog (especially grapes) to the dog's cake. Remember that even if an ingredient does not suit your pet, it does not mean that the dog will stay away from them when you give them to it. The dog is unable to recognize or smell foods that, if eaten, can lead to indigestion at best. When you write down your shopping list for a dog cake, check first what the dog cannot eat.
Before you even give your dog the cake
The type of dog cake you need to adapt to your pet. If your pet doesn't like dietary changes, he or she may be reluctant to approach a bowl filled with food that he or she has never dealt with before. Even the most delicious treats may not convince a quadruped who has eaten the same type and taste of dog food all their life. To avoid the disappointment that your pet did not eat the cake you prepared, be sure to think about what they would like.
Instead of the candles on the cake:
Bite-sized, bone-shaped treats enriched with vitamins.
Check it out
Grain free, star-shaped treats made with a single animal protein source for dogs with digestive sensitivities. Without artificial flavours or colourants.
Check it out
How to make a dog cake?
Since it cannot be sweet, with chocolate or fruit, what kind of cake can you serve your pet for their birthday? For such a special occasion, you need to prepare something appetizing and ideally suited to your pet. You can approach the preparation of a pet cake in several different ways.
Raw cake a'la barf
For those who love raw meat, a cake made of raw meat is perfect. When shopping at the butcher's shop, choose a few mouth-watering pieces of your pet's favourite meat. At home, grind the meat and add some vegetables to it, carrots or beets are perfect. For a more sticky consistency, you can add a whole egg to the mixture or just add the yolk. Add a drop of aromatic salmon oil to an irresistible dog. Decorate it with soft star-shaped lamb dog treats.
Baked meat cake
Does your dog drool at the mere sight of roasting meat? Prepare the meat mixture with the egg and vegetables as in the recipe above. Add a little flour, cooked rice or potatoes to the mixture put into a pan and bake at 180 degrees for about 20 minutes. Allow it to cool completely before serving the cake to your pet. Garnish with crispy dog treats before serving.
Dog food cake
When your pet cannot do without their wet food, you can use a can of their favourite dog food (the best ones will be in the form of pates) and mix it with fruits and vegetables that the dog likes to snack. Enrich the mix with crispy dog treats in the form of cookies!
A bowl full of delicacies
If none of the above options sounds like something your dog would love to eat, go for the simplest solution. Put your favourite dog treats and snacks in the dog's bowl. You can find your favourite soft or crunchy treats there, raw, crunchy vegetables, raw meat chewing cubes or fruit chunks. But be careful, treats can be very high in calories and should never replace a normal meal. You can treat your pet with such exceptional treatment, but follow the principle "too much is unhealthy".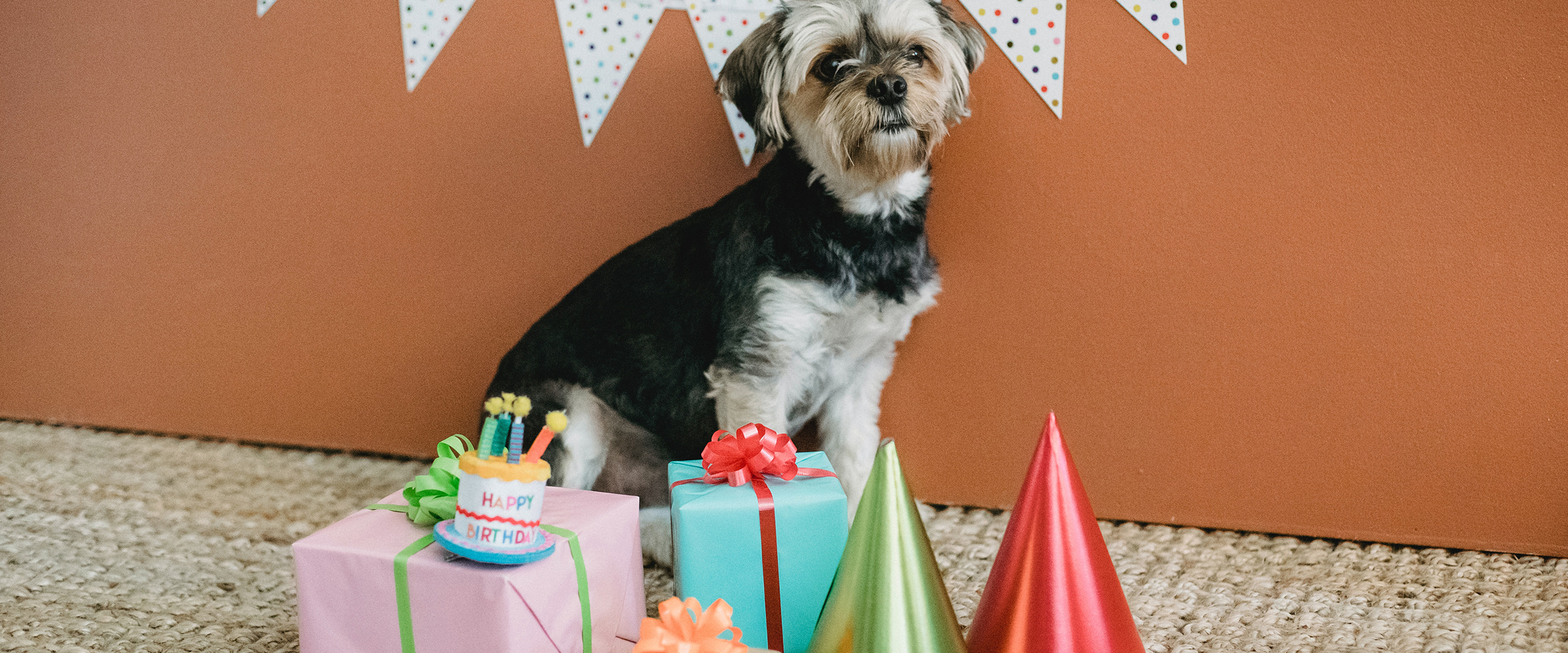 Control your food portion!
If you're making a dog cake, make a small batch at a time. Storing such a cake can be troublesome, and most of all, you have to remember that even on their birthday, a pet cannot be overfed. If you want to make your dog a bigger cake, then reduce the amount of food you usually give with your meals. Also, be careful about the number of treats you serve that day. A dog's birthday is a special day, but it is not a reason to exceed the optimal portion of food in your pet's diet.
Tasty birthday additions: