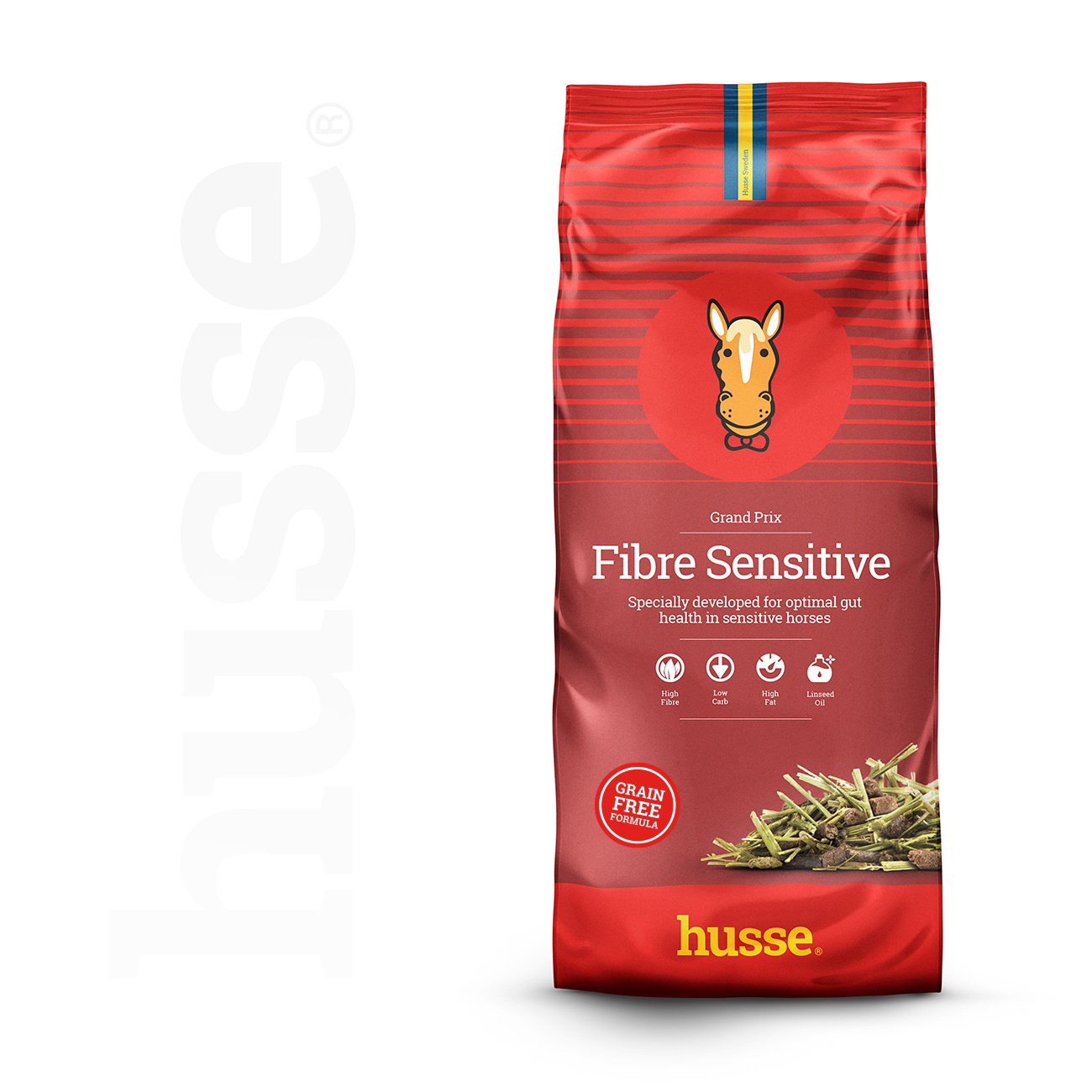 Fibre Sensitive, 15 kg | Oats-free mixture with selected ingredients for a healthy gut flora
50185c
Complementary feed developed for optimal gut health, suitable for horses with sensitive digestive systems and/or nervous horses.
Supports optimal gut health
Fibre Sensitive is a grain free, high fibre mixture (25%), rich in fat with a low sugar and starch content (<7%), which provides energy without any "heating" effect and with a positive effect on the bowel function. Free from molasses, soy, oats, whole grains and colourants.
Carefully selected ingredients to support digestive health
LONG STEM ALFALFA - Encourages chewing and saliva production. The crude fibre in alfalfa is an engine for the intestines and also stimulates the production of vitamin B in the large intestine. Alfalfa stems will slow down the passage of feed through the digestive tract and promote the digestion of all other ingested ingredients.
FLAX CHAFF AND ALFALFA PELLET - Extruded pellets rich in long fibres very beneficial to the digestive tract.
ACTIVE YEAST - Added for a smooth digestion. Live yeast cultures promote acid-using bacteria in the large intestine and stimulate a healthy gut flora. It ensures an optimal efficiency of the feed.
GOS, MOS and FOS - Prebiotics which are only used by benign bacteria and which promote their development and thus a healthy intestinal flora.
Additional benefits of Fibre Sensitive
LINSEED OIL - high oil and energy content. Linseed oil provides energy without a "heating" effect. Starch causes the "heating" effect, as it is broken down rapidly into glucose. These sugars are absorbed very quickly, giving the horse a rush of energy.
EXPANDED FLAXSEED AND VEGETABLES - rich in long fibres. Together with the unique Fibre Sensitive aroma, they guarantee an excellent palatability.
BIOTIN - helps to improve hoof quality. Biotin is a member of the B complex group of vitamins and is best known for healthy skin, coat and hoof. Biotin is a vitamin that must be obtained either through the diet or via the absorption of biotin that is synthesised by intestinal bacteria.
Nutritional info
Additives
Vitamins/kg: 3a672a Vitamin A 19928 IU, 3a671 Vitamin D3 1500 IU, 3a312 Vitamin C 45 mg, 3a700 Vitamin E (all-rac-alpha-tocopheryl acetate) 382 mg, 3a880 Biotin 640 mcg, 3a890 Choline chloride 92 mg.
Trace elements/kg: 3b103 Iron (Iron(II) sulphate monohydrate) 72 mg, 3b203 Iodine (Coated granulated calcium iodate anhydrous) 0.45 mg, 3b405 Copper (Copper(II) sulphate pentahydrate) 42 mg, 3b503 Manganese (Manganous sulphate monohydrate) 82 mg, 3b605 Zinc (Zinc sulphate monohydrate) 89 mg, 3b801 Selenium (Sodium selenite) 0.3 mg.
Technological additives/kg: E 280 Propionic acid 0.56 g, E 284 Ammonium propionate 0.6 g.
Zootechnical additives/kg: 4b1702 (Saccharomyces cerevisiae NCYC Sc 47) 9xE12 CFU.
Composition
flax chaff pellets, alfalfa stems, alfalfa pellets, expanded flaxseed, expanded vegetables, linseed oil, yeast, galacto-oligosaccharides, mannan-oligosaccharides, fructo-oligosaccharides, biotin.
download pdf file with feeding table
Balanced diet and high quality ingredients